Enhancing Growth Through the Stories We Tell
Posted by Kristina DiPalo, ACC | November 13, 2020 | Comments (0)
Nicole was on the fast track. Her role as a marketing vice president at a global medical device company required her to be adept at cross-functional relationship building. Her manager arranged for her to participate in a six-month coaching engagement to improve this skill, a necessity for senior leadership roles. She found coaching to be highly beneficial. Through it, Nicole identified behavioral blind spots and outlined concrete actions for improvement. She was ready to be a better leader, bridge builder and influencer.
But after a few months, Nicole found it hard to make the learnings stick, particularly her ability to influence and connect with her peers. She grew frustrated, feeling like she was speaking another language at work—one that didn't match how she saw her newly developing skills. Her performance plateaued and her ranking in the company's high potential pool diminished.
How could Nicole's story have had a happier ending?
Insights, Action, Language
The first question to ask is whether Nicole was equipped to regularly observe and potentially refine her new skills in the real world. The practice of co-creating homework with clients to reinforce and expand coaching session insights is an effective tool. Likewise, as engagements close out, a similar practice of co-creating tools and methods to help clients assess and refine new skills outside of coaching is equally valuable.
For the sake of our Nicole example, her particular problem related to how her peers experienced and assessed the efforts she made in relationship building. On her own, she was able to measure her skill improvement, but her coworkers did not observe her growth. They were either too focused on their own priorities or were not attuned to Nicole's development efforts.
This is where the language Nicole used and the story she told could have enhanced her coaching gains.
A Good Story
As a communications professional and ICF-credentialed coach, I have a deep appreciation for the impact storytelling brings to human interaction. Successful storytelling works because it invites us to look beyond ourselves and toward the connections we share with others. The more we see something recognizable in a story—characters, situation (plot), setting, etc.—the more our personal and situational understanding grows. For Nicole, the feeling of speaking "another language" at work signaled that her growth in relationship building was not fully recognized by her peers. She needed a way to frame her actions and their value for the organization.
Paul Zak, professor of economic sciences, psychology and management at Claremont Graduate University, has conducted numerous studies on what happens in the human brain when it hears a good story. Zak tracked the release of the hormone oxytocin—known as the "cuddle" or "love" hormone—in his subjects when they heard emotionally connective stories with distinct characters. Their oxytocin levels markedly increased, and these individuals found themselves feeling empathy toward the characters in the story, even to the point of openness to charitable support.  It was the power of the story that brought them from casual observer to ardent ally.
Coaching Plus…
By combining coaching discipline and narrative technique, I have found an approach to client growth and development that works well. If I were coaching Nicole, part of our engagement would involve the creation of a durable narrative for her to use as she engaged peers in her growth and reinforced the advances she made.
The narrative could be as simple as a series of talking points positioning Nicole's new approach to relationships within a broader company context. For example, the messages could communicate her commitment to strengthening relationships, realizing better business outcomes and highlighting the contributions of her peers. Such targeted language would draw attention to Nicole's new commitment and allow others to support her in its realization. So long as Nicole's actions and statements align, her growth could be more easily recognized.
A more comprehensive use of language with coaching insights is found in a robust leadership brand. Over the last few years, I have developed this method to help leaders articulate their leadership style, strengths and role in helping reach their firm's strategic goals. I achieve this by developing a detailed messaging plan and clearly defining leadership attributes and sub-attributes. The power of the leadership brand lies in its ability to create opportunities for dialogue and to support a leader's efficacy. A sample of the leadership brand model is found below, based on an actual client engagement.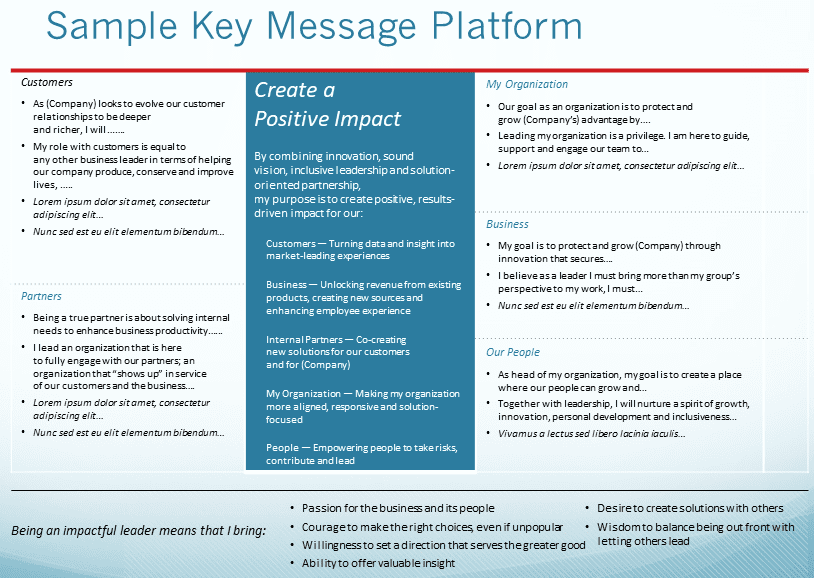 The language we use and the stories we tell can powerfully support coaching insights. As coaches, we help unlock opportunities for growth. Equipping our clients with precise, powerful language can make that growth last.